BELVEDERE HOUSE
Share our History of Decadence and Drama
"The past is a foreign country."
– L.P.Hartley
Belvedere House takes you back to a time of the rich and titled, lavish lifestyles and elegant luxury. A time when 'upstairs' landed gentry lived alongside 'downstairs' staff who kept the house in perfect order. It is a time capsule of a warring family, of cruelty and jealousy, but also of the celebration of the beautiful natural world and those who have worked to preserve it. Prepare to be amazed, educated, entertained and in awe…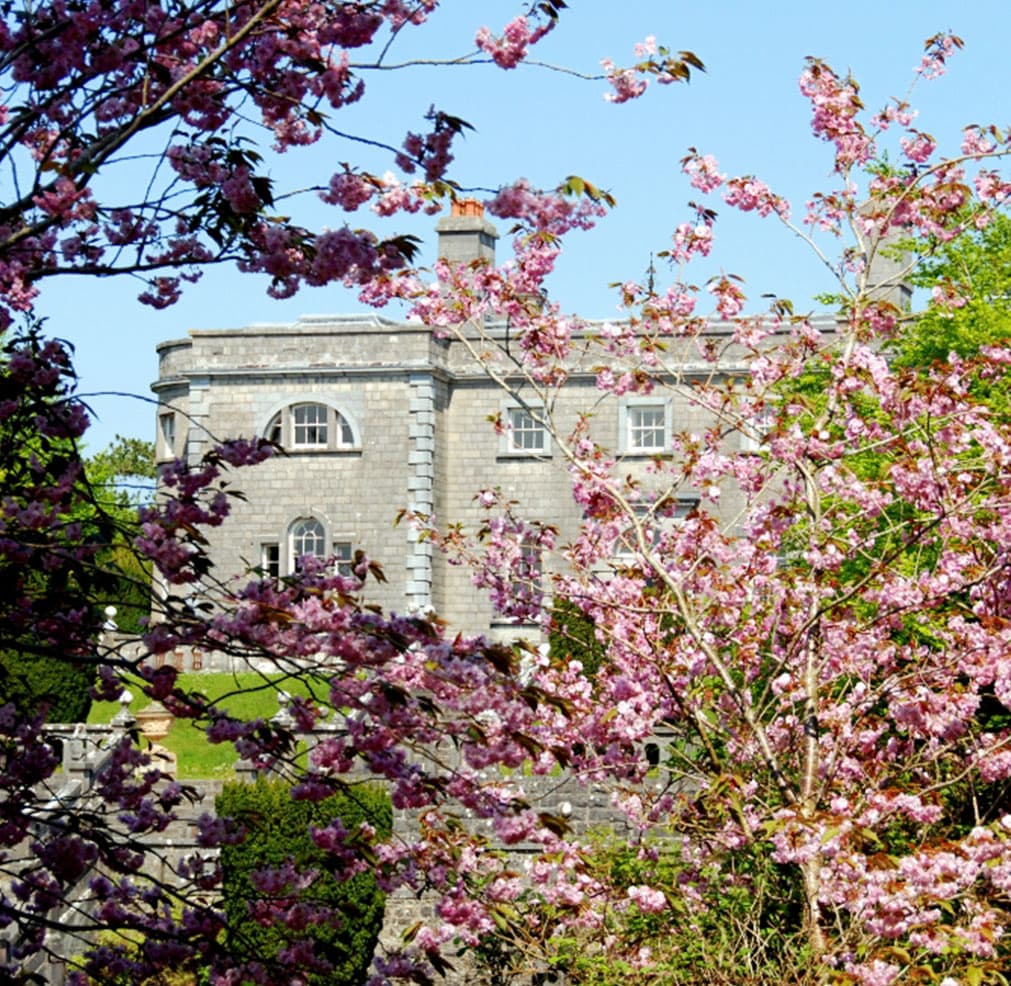 Situated On The Beautiful North-East Shore Of Lough Ennell
Situated on the beautiful north-east shore of Lough Ennell, Belvedere House, Gardens and Park is a magnificent 160-acre Lakeside estate with fully restored Georgian Villa, Victorian Walled Garden and naturalistic designed 18th century parkland complete with curious and quirky Romantic follies – The Jealous Wall, The Octagonal Gazebo and The Gothic Arch.
The House itself is a stunning country villa, originally built as a hunting lodge or 'bolt hole'. It was designed by architect Richard Cassels – one of Ireland's most prominent Palladian architects – and ranks as one of the most accomplished works by this renowned architect.
Belvedere takes you back to a time of great and grand houses, that shut out the world behind high walls – but today, Belvedere celebrates its stories with visitors from around the world. It is a place to be shared and loved by all.
BELVEDERE HOUSE
What Makes the House Special?
An exquisite example of a Georgian home, Belvedere House is built in tripartite style with the front façade broken into three separate parts.
A two-storey building, it has semi-circular bow ends with five impressive bay windows in front and is believed to be the first bow-ended house to be built in Ireland. Rich in character and detail, Belvedere is an imposing house that is well-preserved and breath-taking in its beauty:
Dramatic Diocletian Windows
The House's impressive Diocletian windows are typical of Cassel's architectural work.
Exquisite Rococo Ceilings
The House is fortunate to contain some of the finest and most surviving Rococo plasterwork in Ireland, the work of French stucco artist, Barthelemij Cramilion.
Dating from around 1760, the work in the dining room features putti and classical figures surrounded by trailing garlands, shells and volutes. The plasterwork was commissioned when the House's first owner, Robert Rochfort, made Belvedere his principal residence and wanted to add a greater level of opulence and style to denote his wealth and standing.
Beautiful Detail
Admire the majestic natural slate roof and terracotta chimney pots, the Doric columns and vast marble and oak fireplace.
The Belvedere dining room is a visual feast. All floorboards are original Irish oak, and the fireplace features an insert of Italian Carera marble. All furniture is Georgian period, and the large serving table was designed by Edward Bullock of Dublin in the early 1800's.
Who Left Their Mark on Belvedere?
Robert Rochfort
The Rochforts were an old and influential family who came to Ireland in the 13th Century and Belvedere House was originally designed and built for Robert Rochfort, later Lord Belvedere.
Robert used the house as a 'bolt hole' where he could escape from family life at his nearby ancestral home, Gaulstown House, which he shared with his second wife, Mary Molesworth, and their children. Robert accused Mary of having an affair with his younger brother Arthur of nearby Belfield House. Robert imprisoned Mary in a garret in Gaulstown House and she spent 31 years there under house arrest. Robert, who became known as 'The Wicked Earl' moved to live permanently at Belvedere House.
At great expense, Robert added onto and embellished Belvedere House to reflect his importance as a member of high society and a close confidant of the King of England.
George Rochfort
Robert's son George was the second owner of Belvedere House.
He is known for establishing Belvedere House in Denmark Street, Dublin – now known as Belvedere College. The college was attended by author James Joyce and features prominently in his novel 'A Portrait of the Artist as Young Man'
Charles Brinsley Marlay
In Victorian times, Belvedere was passed to Rochfort's cousin Charles Brinsley Marlay who was an important supporter of arts and culture in Ireland.
Charles was a member of the Burlington Fine Arts Club and financially supported the Fitzwilliam Museum – donating £80,000 as well as the lease on Marlay's London house, and establishing the Marlay Fund. After his death, he left the museum's Director, Sydney Cockerell, a wealth of treasures – including books, manuscripts, paintings, decorative arts, jewellery, glassware, carpets and Japanese artworks.
Charles was responsible for developing the original garden at Belvedere in the 1840s.
Charles Kenneth Howard-Bury
A fascinating figure, Howard-Bury was the son of Captain Kenneth Howard-Bury – educated at Eton and the Royal Military College, Sandhurst.
Howard-Bury was responsible for the development of the garden at Belvedere – bringing to it many plants and flowers he discovered on his travels. From the beautiful gentian blue Echinops to old roses and superb hydrangeas, many of those he planted are still here today.
During World War 1, Howard-Bury served with distinction as a frontline officer on the Somme and was captured during the German Spring Offensive of 1918 before making a dramatic escape. He had a lifelong love of climbing, and in 1921 he was leader of the ill-fated Mount Everest Reconnaissance Expedition.
Rex B Beaumont
Beaumont was friend and companion to Howard-Bury, and inherited Belvedere on his death as the last private owner of the house. Rex worked as an actor in Stratford-on Avon and rubbed shoulders with theatre stars such as John Gielgud, Noel Coward and Ivor Novello.
Westmeath County Council bought Belvedere House in 1982 and together with the Irish Tourist Board undertook a multi-million-pound restoration project. The House, Gardens and Park were opened to the public in 2000.
BELVEDERE HOUSE
The Spirit of Belvedere
Take time to reflect on some of Belvedere's themes:
The Big House
Belvedere calls back a time of The Big House, which was all about power, dominance and status and for the enjoyment of the few. Today, Belvedere welcomes everyone warmly and is here for all to enjoy.

How the Other Half Lived
See for yourself the clear divide of the classes. Belvedere came of age at time of extravagant living, embellished décor to denote wealth, and every whim and fancy was satisfied. Ostentatious dinners of 16 courses together with 12 wines were served by 8 livery footmen and 4 valets – all for only 3 people at table. It was about being purposefully grand, while those 'downstairs' did the hard work. It's a reminder to value the social and economic equality of the modern world.

The Role of Women
In Mary Molesworth's imprisonment by Rochfort, we see how in the 18th century women were viewed as property: second class citizens with no free will who lived in the shadow of perceived shame.

Family and Honour
Belvedere House brings to life the power of family honour – the good and the bad.

The Importance of the Natural World
Belvedere is a true homage to the compelling beauty and endurance of nature. As custodians of the natural world, it's our job to protect our environment and maintain biodiversity for future generations.