EXPLORE MULLINGAR AND BEYOND
See, Do, Explore and More
Belvedere House is in Mullingar – a picturesque town rich with Irish myths and legends, loved for its stunning loughs and waterways and known for its musical heritage. Here you can immerse yourself in fascinating history and culture, explore the beauty of vast green forests and enjoy the best of great foodie experiences, sporting adventures and a lively entertainment scene.
Mullingar is 79 km from Dublin, 240 km from Cork and 145 km from Galway, so is an ideal meeting place for people coming from different parts of the country.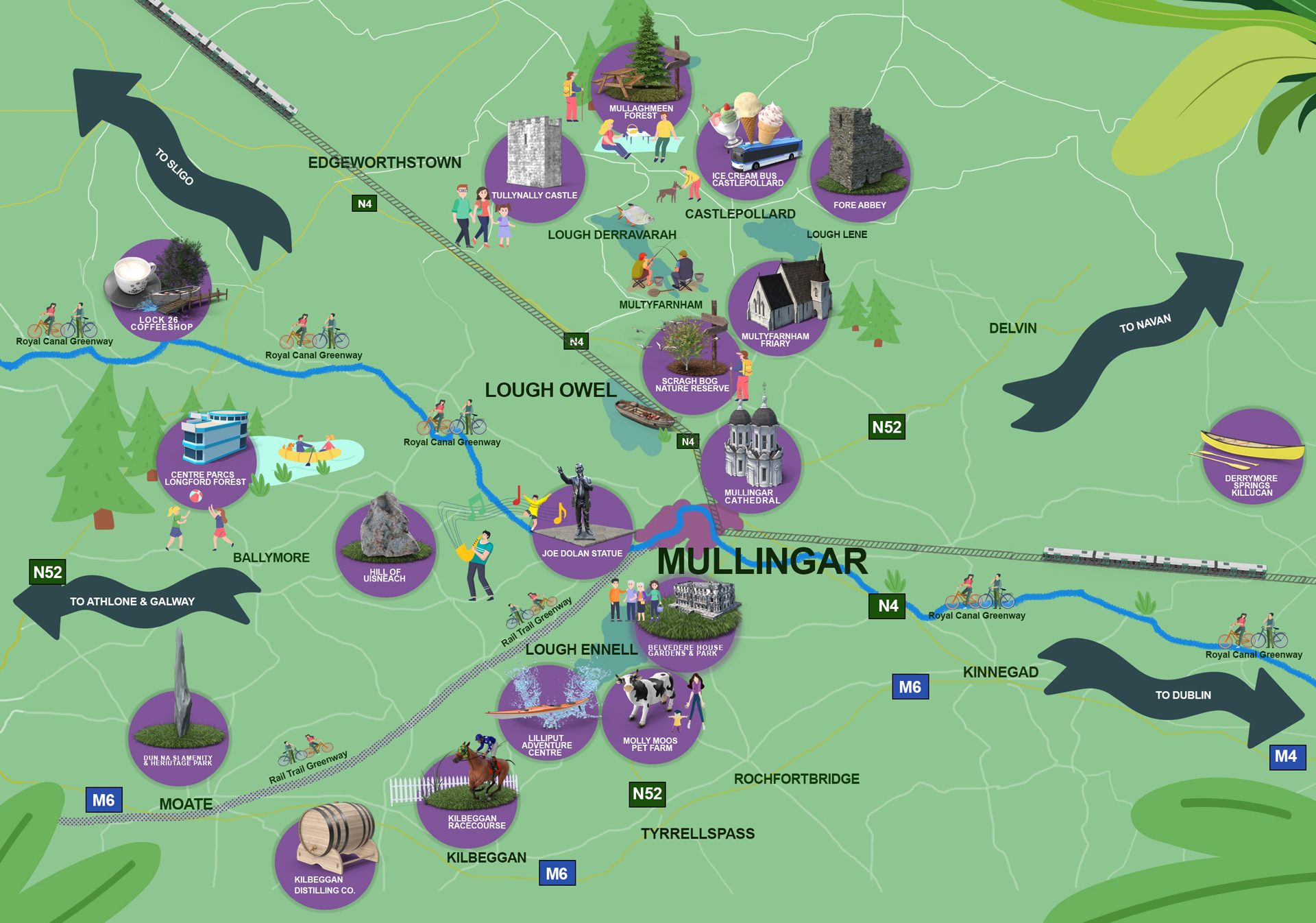 EXPLORE MULLINGAR AND BEYOND
Enjoy Our Town
Traditionally a market town known for its cattle trading, Mullingar (meaning 'left-hand mill') is the county town of county Westmeath. It is also the only town in the Midlands to be awarded the prestigious Purple Flag, which tells visitors they are in a town that offers an entertaining, diverse, safe and enjoyable night out.
There really is something for everyone in the town and surrounding area…
Stunning lakes that include Lough Owel, Lough Ennell and Lough Derravaragh. From fishing and boating to walking and learning about local lough mythology – it's all here.
Famous landmarks that are the home of Irish folklore, including the Hill of Uisneach, one of the most sacred and historic sanctuaries in the world.
An exciting calendar of live events, music, theatre and cultural happenings. It's not surprising that Mullingar is home to many famous artists including Joe Dolan, Niall Horan, The Blizzards, The Academic and actress Niamh Algar.
The best of sporting events, including amateur golf competition The Mullingar Scratch Cup.
Fabulous outdoor action in the form of cycleways, swimming, adventure centres and horse-riding. Mullingar is about getting out there and loving life.
Fabulous boutique-style shopping, from the classically stylish to the creative and quirky. See visitwestmeath.ie for more information.
Public Transport
Mullingar Train Station – you can find out details and book tickets on the irishrail.ie website.
National Bus Service – you can find out details and book tickets on the buseireann.ie website.
You can also find up-to-date information on public transport in the area vie the Moovit website or app.
More information on transport around the county is also available on visitwestmeath.ie.
EXPLORE MULLINGAR AND BEYOND
Some Local Attractions
Cathedral of Christ the King
A must-see while in the area. Designed in a modernised Renaissance style and opened in 1936, this stunning Cathedral is built in the form of a basilica, with twin towers and a dome.
The seat of the Bishop of the Meath, the Cathedral includes a fascinating museum with a wealth of artefacts. It is situated in the centre of Mullingar in Bishopgate Street, next to the Grand Canal.
Hill of Uisneach
Walk in the footsteps of High Kings, Gods and Goddesses. Considered the centre of Ireland in many ways, the Hill of Uisneach is one of the most sacred and historic sanctuaries in the world and has played a part in every significant Irish event – political, cultural, religious, mythological and geographical.
Uisneach is the resting site of the earth goddess Ériu and the sun god Lugh and was also seen as a gate to the mythical fifth province, Mide. In later years, the Hill became the seat of Ireland's High Kings. The hill stands at 596ft above sea level and from its summit, you can see 20 counties on the horizon.
Royal Canal Greenway
Whether you're a walker, a runner, a cyclist or a family out for the day, Ireland's longest greenway with its stunning countryside, quaint lockhouses and riverside attractions is a real treat.
The Royal Canal Greenway is 130km of level towpath, starting in Maynooth and going on through Mullingar to Cloondara in county Longford. You'll take in beautiful rural and urban landscapes, gentle fields and historic landmarks, and there are plenty of cafés and picnic spots all the way along, making it the perfect 'hop-on-hop-off' sightseeing route.
Kilbeggan Distillery
One of Westmeath's highlights has to be Kilbeggan – the oldest licensed distillery of its kind in Ireland. Tour the distillery and witness real artisan Irish whiskey being made.
Treat yourself to a masterclass, taste 3 different whiskeys, and learn about the traditional methods of mashing in oak mash tuns. And discover how the families that owned the distillery and the committed local town's people came together to preserve the life and heritage of this famous national treasure.
Ireland's Hidden Heartlands
Mullingar is situated in the magnificent region known as Ireland's Hidden Heartlands – an area known for its natural beauty, rich local culture, heritage, and the opportunity to slow down to an easier pace for a while.
Ireland's Hidden Heartlands stretch from Leitrim to East Clare and continue through Roscommon, Longford, East Galway as well as Westmeath, Cavan, North Tipperary and Offaly. The region also includes the Ballyhoura area, comprising parts of East County Limerick and Northeast County Cork. Ireland's Hidden Heartlands are Ireland at its most beautiful and unspoilt, where beautiful waterways blend with romantic forests, rich bogland and picture-postcard villages.